Legit Option or Just a Scam? – Swagbucks Review
So, today it's time to start learning about a few popular home based internet business opportunities. In this Swagbucks review, we will learn what exactly Swagbucks is, whether it is a legitimate website, and whether it is worth joining.
Is Swagbucks a legitimate site, is it a waste of time, or worse, is it an all out scam?
Surveys Say is here to help you identify the legit services and avoid online frauds such as spams, scams, phishing and identity theft.
This article is a thorough, in-depth review of the popular paid survey site Swagbucks which has blown up over the last few years due to very successful marketing campaigns.
But before we go any further, if you are only looking for a quick summary of our Swagbucks review, read this!
Overall, Swagbucks is one of the most legit survey sites that we've found. Offering a variety of ways to earn "swagbucks," ranging from completing surveys to surfing the web, it is a profitable option to make a little money with your free time.
Moving on, as the tagline says, "The Largest Free Online Rewards Program", Swagbucks isn't a typical paid survey site.
But is it legit? Or it's just another scam? Read on to find out more about the ins and outs of Swagbucks.

What exactly is Swagbucks?
Swagbucks is a rewards and loyalty-program operator which is operated by Prodege LLC, and based in El Segundo, California. It is a platform where you can earn points and redeem prizes and cash in exchange for doing the things that you would usually do online anyway such as shopping at your favorite online stores, browsing the internet, playing games, watching videos and answering online surveys. By doing these things via the Swagbucks operator, you can earn "Swagbucks", which can be exchanged for rewards such as gift cards or cash. Swagbucks has over 15 million members and is completely free to join.
[sc name="Swagbucks Review Table v2″]
The name Swagbucks sounds catchy, doesn't it?
Well, the credit goes to its marketing department. The name is unique, has a good hook and is hard to forget. It is also an exciting rewards program: they give you points called SB for accomplishing tasks that run the gamut from completing surveys to watching videos and searching the web. These SB's can be slightly deceptive though, since earning 100 SB sounds a whole lot more exciting than earning about $1.00 (each SB is worth approximately 1 cent).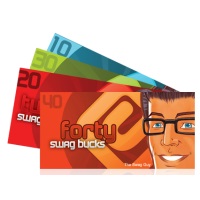 While it is a little deceptive to call the rewards SB instead of cash, it doesn't mean that this site isn't legit. Swagbucks is actually rather upfront about its rewards system. You won't be making enough money to replace a part-time job any time soon, but those SB's do slowly add up. If you can earn money for doing things that you would ordinarily do online anyway, then why wouldn't you want to take advantage of that? That's what is so great about swagbucks – it gives you the opportunity to make a small passive income in your spare time from home literally just for doing things on the internet that you would ordinarily do anyway. Plus, the addition of the Swagbucks app means that you can also earn Swag Bucks on the go anywhere in the world, simply just for using your cell phone.
How does Swagbucks work?
First off you need to sign up, which is quite straight-forward. Swagbucks is only available in certain countries, so be sure to check that it is available in your country before you try to sign up. Swagbucks is available in the following countries; the United States of America, the United Kingdom, Ireland, Australia, Canada, Germany, France, and India. If you live outside of these countries, then unfortunately Swagbucks is not available for you yet. However, if you're interested in joining Swagbucks, be sure to check back on the website regularly as they may change their available countries list at any time.
There are many different ways in you can earn Swagbucks and earn yourself some rewards such as extra cash or gift cards, and we have outlined these different ways of earning below.
New users to the site can earn bonus rewards points. Get a 1000 SB bonus, which is equivalent to $10 in value, when you spend at least $25 at a store featured in Swagbucks.com/Shop. This must be done within 30 days of registering to recieve your bonus. There are also many other rewards available for new users. A quick Google of the phrase "swagbucks sign up code" brings up a bunch of results for codes which offer various sign-up rewards. These are usually time limited and can change often depending on when you sign up, so keep a lookout for the best sign-up reward deals.
Another bonus of using Swagbucks are Swagbucks codes. Swag codes can pop up at any time while you're using Swagbucks and these are time limited rewards that contain a certain value of Swagbucks which can be added to your balance as long as you act quickly enough to redeem the code. This is a fun added element of Swagbucks that most other similar rewards websites don't have. They also offer extra bonuses on holidays. For example thanksgiving cards free bonuses where all rewards are worth 2x their usual amount.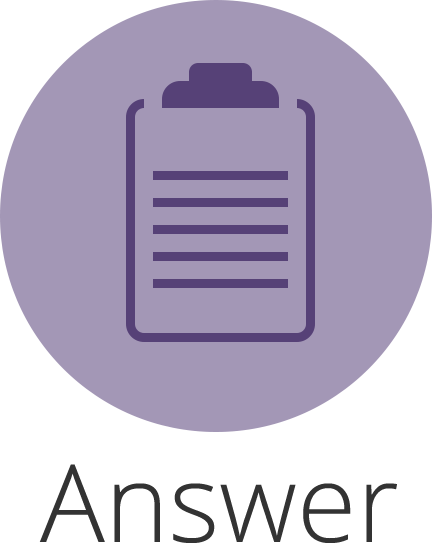 Once you sign up, you will get a large variety of opportunities to earn SB. The most important of them for this site is Swagbucks Answers, their platform for taking online paid surveys which are completely legitimate. Put simply, this is where you can take surveys and earn cash, simply just for doing the answer surveys.
Swagbucks offers anywhere from 1 SB to 1000 SB for each completed survey, which can be exchanged for cash or gift cards. Filling out online surveys is one of the easiest and most efficient ways of making a passive income online. All you have to do is answer surveys and you earn rewards, it's as simple as that!
Once you sign up, you will be given a large variety of opportunities to earn SB. The most important of them for this site is Swagbucks Answers, their platform for taking surveys.
Swagbucks offers anywhere from 1 SB to 1000 SB for each completed survey.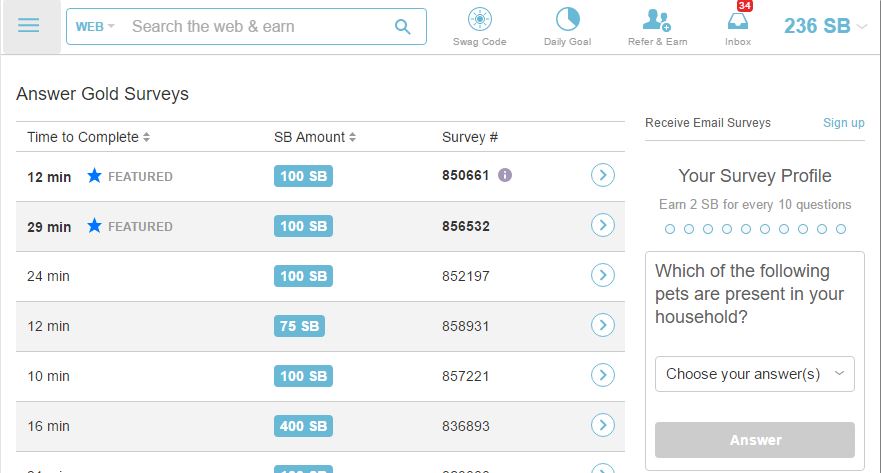 The reward amount depends on a variety of factors, including the length and value of the survey. Also, some demographics are more valuable to survey providers than others, so depending on your information you may be given more valuable surveys. However, it is a bad idea to lie about anything in order to get better surveys! If Swagbucks ever detects that you are cheating in any way, all your SB will be retracted and your account deleted and you won't be able to claim your cash or gift cards. Here is what the site says….

One of the most refreshing things about Swagbucks is their commitment to keeping it all above the belt. Whereas a lot of the shadier survey companies won't be up front with how they distribute or take advantage of your information, Swagbucks lets you know exactly where it's going.
As any survey taker knows it is highly likely that you will not qualify for a lot of the surveys offered, even with their advanced matching algorithms. Swagbucks has no advantage on other sites in this regard, and it can be frustrating to start a survey and then find that you're disqualified. However, Swagbucks has a leg up on the competition here because it will pay you 1 SB the first five times you are disqualified in a given day.
The site is also highly accessible and it even has an app for Android and Apple phones. Not to mention a great setup, minimalist design, and timely customer service, Swagbucks has definitely become one of the crowd favorites.
Does this sound like the survey site for you? Click here to try it now!
Other Ways To Earn Your Digital Dollar
While most people on this site are primarily interested in taking surveys, there are a lot of other ways to earn points, other cash-back rewards and money on Swagbucks.
Search Engine
Yes, it sounds a little strange. Actually really strange! There are a lot of people who are skeptical about earning money for using a search engine.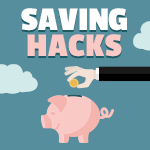 But this particular site is entirely trustworthy. If you use the search engine that they provide (which is powered by Yahoo), they will randomly reward you a random amount of SB, which is a nice little bonus for searching "Cat jump fails."
It may at first seem that if you search all day and night you will have a streak of Swagbucks coming your way.
Sadly, the situation is not like that. Although the Swagbucks website does not disclose how they allocate their rewards, they have confirmed the fact that the rewards are mostly based on the amount of time you spend using their search engine and not the number of searches that you perform.
Want to get started earning money just for using a search engine? Click Here to try it now!
Referral Program:
If you refer a friend, you will get 10% of their lifetime earnings. So every time your friend completes a 90 SB survey, you will get 9 SB. This can dramatically increase your Swag Bucks count if you refer a lot of friends and is one of the best cash-back rewards available.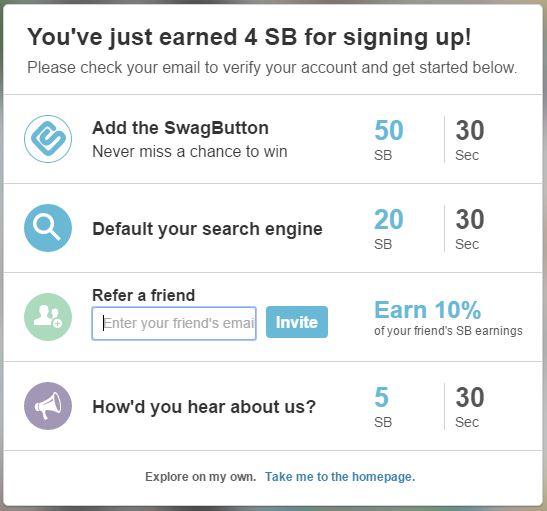 Cash Back:
Swagbucks will offer you cash back in the form of SB for shopping at online retailers like Amazon, Macy's, Target, Walmart, and Best Buy. This can be up to 20% cash back, although the key words are "up to." It is much more common to get less than 20% cash back and not all the items at a retailer are even available for cash back. So you can simply earn rewards for doing the shopping online that you would have done anyway. If you quite often do your shopping online anyway, then this option on Swagbucks is a great way for you to earn cash back and bonus points.
Although this is the case, it never hurts to get some cash back for buying things you would buy anyways. Also, during the holidays when retailers have their biggest sales, Swagbucks will often double or even triple the percent of cashback they offer for certain retailers so your bonus points will really add up.
Swagbutton
If you are planning to use the Cash Back feature of Swag Bucks, you will probably want to download the Swagbutton. This feature will allow you to take surveys and watch videos from your usual browser as well as notify you whenever you have a Cash Back opportunity.
Swagbucks Watch: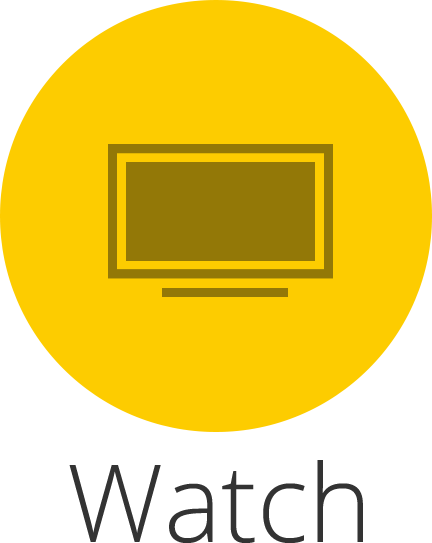 This is Swagbucks' in-house video channel. Let's say it's their version of YouTube. You get 1-4 SB for every set of 4-8 short videos.
It's not much, but if you watch a lot of videos every day, then you can earn well from this feature. You can make up to $5 per day by watching videos, although it probably won't be worth the amount of time it takes to earn that much. It is often better to simply start a playlist of videos and let it make money for you in the background.
Trial Offers: If you sign up for certain trial offers through Swagbucks, they will reward you with large amounts of SB, sometimes up to enough for a $25 gift card and occasionally more. The only downside is that, while many of these trial offers are free, not all of them are and most of them require you to enter your credit card number. However, you will still get the SB's if you cancel your trial offer after a month, so you can get away with a large amount of SB's for very little. You can also earn Swagbucks for donating money to certain charitable organizations. I don't know about you, but I kind of like the idea of getting paid to donate the money I would give to help hungry children anyway.
Games: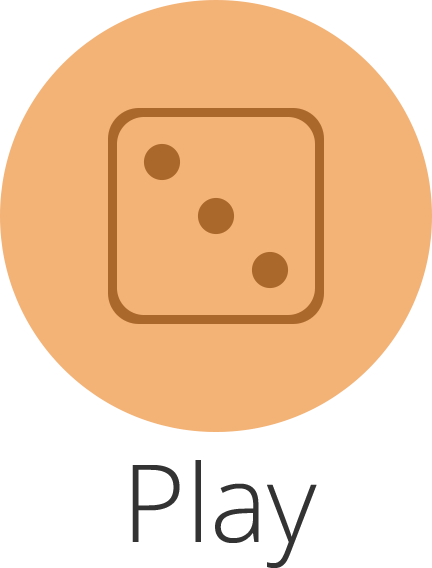 Swagbucks has many fun and popular games on their site you can play, including Wheel of Fortune, Bejeweled Blitz, and Scrabble Cubes. You won't make many SB's playing these games (usually 1-10 SB per game), but if you are going to be playing games anyway, you might as well earn some cash. How great is it that you can earn points simply for just playing games.
Daily goal:
The site has a meter on its home page that flashes an amount of SBs that is your daily goal to reach. If you score the goal, you will receive a 10% bonus on your days SB's.
Hourly Random Winner:
The Swagbucks blog displays a random username and avatar in the "Hourly Random Winner" section.
If you see yours, you have to click the link to claim it. However, unclaimed winnings will not be delivered to your "bank account" if you miss the chance!
What Can You Earn?
So you have worked hard enough to make a cashout, what can you possibly get exchanging these bucks now?
If you visit the Swagbucks reward store, you will find a lot of options to choose from; for example –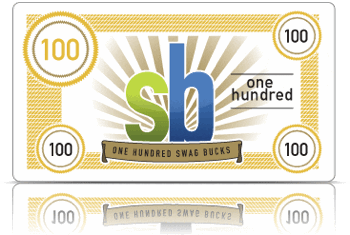 Apparel & Accessories, Department Stores, Electronics, Food & Beverage, Fun & Games, Gas Cards, Health & Beauty, House & Home, Music & Entertainment, Sports & Outdoors, Travel etc. you can redeem your Swagbucks for actual dollars and send it to your PayPal account or buy Amazon gift cards.
It is wise to wait until you have accumulated a large amount of SB's since the more you have, the more valuable each SB becomes. For instance, it costs 500 SB for a $5 cash out, but only 2200 SB for a $25 Amazon gift card.
The Swagbucks App
Swagbucks also has a mobile app that is compatible on most smartphone devices. Essentially, this is an earn rewards app where you can earn extra cash rewards on your mobile as well as on the desktop version. This is a great way to make a little extra income on the go, and the Swagbucks app acts as a smart passive income app.
Is Swagbucks a scam?
No its not! It's a free platform offering free products and money in return. They do not promote their site with fake promises and have already paid out $135 million in Rewards to their members.
The Company

Basically Swagbucks is an online loyalty program powered by Prodege LLC.
Prodege is a famous provider that brands and incentivized online reward portals and has "Search&Win" partners including The New York Giants, WGN America, World Wrestling Entertainment and several other big brands.
Prodege is a Los Angeles based company that has over 4 million registered members now, which makes it one of the fastest growing online rewards programs.
In 2011, Swagbucks was ranked #43 on Inc 500 fastest growing company list. Los Angeles Business Journal ranked them as the 3rd fastest growing company in LA. As mentioned earlier, this site has ranked as the 115th site with most traffic in the United States at Alexa.com and 539th in the world.
Is it worth the time?
That depends.
There are three ways you can approach Swagbucks.
Relaxed– If you approach it this way, you will just switch your normal internet activities over to Swagbucks. Simply use the search engine and the toolbar when they can, put a playlist of videos on in the background now and then, and then cashout a free $5 Amazon gift card once the SB's add up.
Swagbucks is good for these people. They are not doing much extra to earn a few bucks per month. It's absolutely free and they have not made any massive effort to gain it.
Survey Taker- These are the people that we at Surveys Say cater to, so you probably fit into this category. If you already enjoy getting paid to take surveys, Swagbucks is really quite good. While it has many of the problems that a legit paid survey site tends to have (i.e. disqualifications and low payouts) it doesn't have the problems of a scam. It is upfront and clear about what how it's payout system works and doesn't promise to make you rich. However, survey takers should be careful not to get sucked into the process. It is in Swagbucks best interest to keep you on their site for long periods of time, longer than is wise or profitable. It is probably smart to set a specific amount of time you are willing to spend on the site and not go over it.
With all of that in mind, Swagbucks has a great set up, attractive design, and plenty of surveys to take. We highly recommend it to any survey taker.
The Chasers – The people, who complete every task, play every game, watch every video and take every survey!
They are merely fooling themselves and wasting their time!
Swagbucks is great for relaxed users and survey takers, but it won't help you retire early, or give up your weekend part-time job.
That being said, there are a few ways to get a large payout quick. If you are interested in signing up for Dollar Shave Club, Audible, or being an Uber driver, Swagbucks will pay you significants amounts of SB to sign up. And while you won't make large amounts of money off of their cashback program, it is still nice to get paid for buying things you would already buy.
The marketing brilliance of programs like Swagbucks lies in their system of rewarding points instead of currency, because winning 500 Swagbucks sound a lot more fascinating than winning a 5 dollar bill. It's a fairly good reward for doing little out of the ordinary, but certainly puny to start a quest for Swagbucks hunt.
Pros and Cons of Swagbucks
Pros
A 100% free platform to join.
A huge variety of prizes.
Simple interface and simplified tasks and surveys.
Cons
The search engine is not as fast as Google or Ask is.
The Swagbuck account stockpiles slowly.
It is easy to get sucked into the SB hunt.
Is Swagbucks Legit?
The simple answer to this question is yes – Swagbucks is an entirely legitimate platform for earning some extra cash. The proof is in the 15 million members who trust the site and use it daily.
Should you join?
Here is the deal. You cannot make a living on this site and you should not try to do so; it will only lead you to waste your precious time.
But how much do you earn presently while searching the internet or watching videos? Do you like taking surveys anyway? Swagbucks is letting you generate free prizes for what you usually do every day of the week.
Swagbucks brings a lot to the table for sure, but only if you use it in a relaxed way. If you are not an existing Swagbucks user, then you can register now and install the toolbar to check it out today.
Swagbucks is a great opportunity to make some passive income off of things that you would ordinarily do on the internet anyway. Plus, if you enjoy filling out surveys, then the Swagbucks you make can really add up, and you can get some great cash rewards or gift cards out of your spare time.
It's definitely not a scam and worth giving a shot. Click Here to check it out now!