Making Investing Simple? – Wealthfront Review
Everyone wants to invest to secure their future, but learning about the market is a lot of work. Even with online stock brokers, you'll have to do a lot of independent research to get the most out of your investment. Because of this fact, robo-advisors are becoming more popular in the hands-off investing community. These advisors help handle your portfolio and make decisions, so you don't have to. They put your money to work for you.
Wealthfront is one such robo-investor that is gaining popularity. Ahead in this Wealthfront review, we'll take an in-depth look at the service and let you know if it's worth investing your money with them. Good advice is always welcome, and Wealthfront is in the business of investment advice.
What is Wealthfront?
Wealthfront was founded in 2008 under the name kaChing. It was a mutual fund analysis company to start but eventually moved in the direction of wealth management. Now, they're an automated investment firm, managing more than $5 billion in assets.
Wealthfront operates under the statement that software is better than people in many cases. From online ordering to requesting an Uber, software has made almost everything more efficient and accurate. They believe that the same goes for financial advice. Wealthfront's software can determine the best investment strategy for each user, more so than a human advisor could. The software has all of the data at its disposal, with no human element that can often screw things up.
How Wealthfront Works
To get started with Wealthfront, you'll first have to create an account and fill out a questionnaire. The survey you'll take will assess your risk tolerance and decide which investment strategy is right for you as an individual. From there, the software takes over. Wealthfront rebalances your portfolio through thresholds, keeping you true to your risk analysis and as tax-efficient as possible.
Wealthfront supports accounts such as IRAs, Roth IRA's, individual and joint non-retirement accounts, 529 college savings plans, and trusts. Their Tax-Loss Harvesting feature will allow you to keep as much of your money as possible by automatically moving money without changing the strategy with which Wealthfront will invest your money. If you have over $100,000 in your account, then you're eligible for tax-optimized direct indexing, which further limits your tax burden through software optimization.
For those with a balance of at least $500,000, they offers Advanced Indexing, which exposes your portfolio to tested factors which aim to improve your Wealthfront returns while staying true to your identified risk exposure. With these strategies, Wealthfront can put your money to work passively. You'll hardly have to pay attention to your investments, as their software programs make decisions for which you'd have to pay a human advisor a hefty fee.
If you're a smaller investor and have less than $5,000 to invest, Wealthfront will employ a different strategy. Because there is less money to work with, Wealthfront will deviate from the risk analysis they take at the beginning. This strategy means that they might be taking more of a risk than you'd like, but they have a chance at a higher profit in the long-run. According to them, their algorithm shows that this deviation allows smaller amounts to grow faster with little difference in long-term performance.
Pricing

Robo-advisors are far cheaper than human advisors, and appear as though they're consistently more accurate. Wealthfront gets you off on the right foot by managing the first $10,000 of your investment for free. After that, Wealthfront fees are 0.25% annually. This fee is in-line with the robo-advisor standard, as other competitors use the same payment structure.
If you want to invite a friend to invest with Wealthfront, they also offer a referral benefit for both you and the person you send over. For each person you refer, Wealthfront waives the referral fee for another $5,000. This will apply to both you and the person you refer, allowing them to start with $15,000 of fee-free investment.
.
Steps to Get Started
Fill Out the Questionnaire
As you create your account, Wealthfront will ask you a series of questions to determine the best portfolio for you.

You can always change your answers at a later date

At the end of your application, Wealthfront provides you with a recommended portfolio and risk score
Look at the Investment Plans
Based on the answers you provided, Wealthfront will tell you how they plan to invest your money.

Make sure you agree with how they intend to invest before continuing.
Open an Account
If you're happy with your answers and the following investment strategy, open your account.
Fund your Account
The account minimum is $500, so deposit at least that much.

Transfer an existing account, deposit, or wire transfer the money into your new account.
Passively Invest
Allow Wealthfront to do the work for you and monitor your investments passively.
Pros and Cons of Wealthfront
Pros:
Low management fees

Tax optimization

Easy-to-use portfolio review tools

Tailored investment strategy
Cons:
Customer service only available during business hours

Low cash balance
Public Perception (Other Wealthfront Reviews)
There doesn't seem to be much in the way of complaints about the service in other Wealthfront reviews. We haven't seen anyone warning of losing their entire investment through the management service. Users appear to like the tax strategies more than anything, as they allow users to save as much money as possible at a low management fee. Customer service could be better – especially since they aren't 24/7 like some competitors – but overall people seem to have had a positive experience using Wealthfront.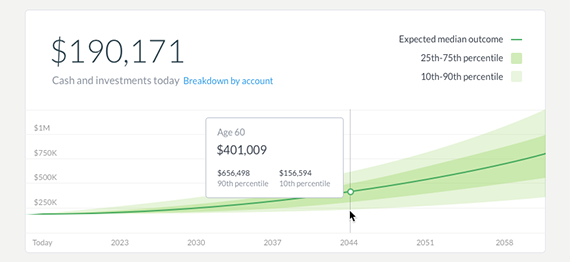 Competition
Betterment is the main competitor to Wealthfront. Both services use the same management fee, but Betterment has more requirements, especially when it comes to the promotion. Instead of a flat $10,000 of free management, Betterment gives one year of free management with a deposit of over $500,000. Below that, investors will get up to nine months depending on the size of their deposit.
A regular Betterment account charges 0.25%, but a premium account (over $100,000) will put you in the 0.4% fee range. If you're a heavy-hitter, though, you'll be able to take advantage of the removal of the management fee for accounts over $2 million (though this is a tiny percentage of their users).
Personal Capital is another competitor of Wealthfront's. Their management fee is considerably higher at 0.49%-0.89%. This service is geared more towards big-spenders, with a minimum account balance of $100,000. Any amount under $1 million is going to cost you 0.89% in fees. It's not until you get to over $10 million that you'll receive the 0.49% rate, and that's still far more than Wealthfront's 0.25%.
Should You Get Wealthfront?
If you're interested in getting a robo-advisor to help secure your investments, Wealthfront is a particularly good option. The Wealthfront fees are low, and their promotion is realistic. You won't have to commit a significant amount of money up front, which means you'll have more flexibility if you decide Wealthfront isn't for you.
Investing your money is a big decision, and Wealthfront allows users to invest $10,000 before ever seeing a management fee. When you eventually do experience a fee, it will be a far cry from what some of the competitors are charging. Hopefully, this Wealthfront review helped you make a decision, and we wish you best of luck in your future investments!