Opinion Place Review – The Full Story
Opinion Place is a global online paid survey website. It is owned by the American company uSamp (United Sample Inc.).
Today, it boasts an active online community of both survey takers and reputed clients.
Opinion Place surveys are professional marketing research studies undertaken for respected companies interested in in the opinions of users and non-users of their products.
Opinion Place's surveys are secure and can only be accessed by the website itself and its specific clients. Opinion Place's Privacy Promise and Policy assures users that it will protect their personal information.
When Opinion Place hands over survey data to sponsor companies of marketing research surveys, it's always in the form of anonymous or aggregated data unless otherwise stated within the survey or if users have given express permission to do so.
Opinion Place does not sell or rent any information to third parties.
The company, like other similar online panels, enables its large member base to fill up and complete surveys at their will.
Users can chose to take up as many surveys as they like (subject to qualifications criteria of certain surveys) and move at their own pace (flexible hours dictated by the users themselves).
The emphasis is on working from home – at the convenience of its users.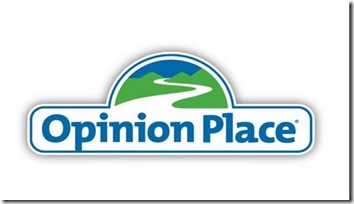 The key features of Opinion Place's paneling system include:
Provision of cash rewards and other incentives like PayPal transfers, Amazon gift cards and American Airlines air miles.
Opinion Place paid surveys are assigned to new members based on their responses to the registration survey about their personal backgrounds and household (questions relating to age, ethnicity, income and household composition).
When users qualify for a survey, Opinion Place will let them know the subject, length and reward amount for each available survey.
Only 1 survey per week can be taken. Additionally, only one member of a household can sign up for an Opinion Place account.
Most surveys on the panel take about 10-15 minutes to complete. However, there is variation. Some surveys can be as short as 5 minutes while others can be as long as 30 minutes or more.
Some surveys require participation of other members of a user's household (ie for family surveys).
Unlike other survey panels, Opinion Place does not have any minimum redemption (cash-out) balance.
Opinion Place's "Quick Start" program lets users start taking up surveys right after login instead of having to answer demographic and household information every time when logging in.
Payment per survey varies from $1 to $5 (using Amazon gift cards or PayPal credits), 75-150 air-miles or entry into Opinion Place's bi-monthly sweepstakes. The amount of the reward will vary depending on the length of the survey.
Occasionally, members may be invited to try out Opinion Place's special market research projects that pay higher rewards. The website also features special Opinion Place paid online surveys.
Survey topics are highly diverse. Some of the most popular are on entertainment, financial services, new products, shopping and sports.
The website runs a bi-monthly sweepstakes.
Survey length varies from as little as 5 minutes in duration to more than 30-60 minutes in length
Surveys are provided on the basis of given demographic backgrounds – segmented based on age, gender, location, etc.
Predominantly covers the North American region
The minimum entry age is 18 and above
For clients, Opinion Place serves as an attractive channel to release surveys to participants of vastly different demographics and backgrounds.
As is typical for other survey panels with related business models, companies' costs for using Opinion Place will vary depending on the number of questions asked, the number of survey respondents needed and any qualification criteria specified.
For users of Opinion Place, membership and access to the website and its services are entirely free.
Participation of surveys is also free – subject to any qualification or "screening out" conditions. The absence of any redemption rates makes it rather easy to cash out whatever earnings you make.
Pros – The Pros Of Opinion Place
Ranked #27 on www.surveypolice.com's list of all paid surveys (213) – with a 3 1/2 stars out of 5 based on 55 user reviews (overall score of 68 out of 100).
Ranked #16 by www.getpaidsurveys.com on its list of the 'Top 24 Best Paid Survey List'.
Opinion Place's surveys tend to be short and pay relatively well compared to other online panels.
The typical pay ranges from $2 to $5 per survey – though your potential earnings are effectively capped due to their stringent one survey per week requirements.
There is no minimum threshold redemption value.  In other words, the redemption rate is $0 which far surpasses the minimum limits of more esteemed panels like Opinion Outpost.
This is a huge advantage when comparing Opinion Place with the majority of other online panels out on the web.
Rewards are processed within 3-4 weeks at the latest. There have been very few complaints by users of any payment a discrepancy by Opinion Place.
PayPal however, does get processed faster than all the other available modes on the website.
Rewards are clearly stated before taking up a survey. This means that members don't have to be in doubt as to how much time or effort they will be expected to contribute before earning payment.
Unlike other survey websites, Opinion Place's does not cut off a member in between taking up surveys on the grounds that they do not qualify.
Qualification is determined before undertaking each and every survey. Additionally, if you do not qualify for a survey, you can try again the very next day.
Surveys are very diverse and broad based. The website has a large variety of different types of surveys broken down into different categories, durations and pay.
Some examples of the variety of surveys include entertainment, financial products, new products and services, shopping and sports.
A number of users have mentioned how doing the surveys is fun, fast and not bothersome at all.
Cons – The Cons Of Opinion Place
Surveys are very limited in number.
Some users have cited how they were not eligible for partaking in surveys and asked to try the next day.
The stated limit for Opinion Place is the chance to take one successful survey every 7 days (1 week). If you do not qualify for a survey, then you are asked to "try again" the next day.
The waiting period between completing one survey and waiting for the next can sometimes be long and tedious.
This makes it very uneconomical to try to earn good money from Opinion Place owing to its stringent requirements.
Users are required to login at least once a week in order to keep their accounts active and to be eligible for future surveys.
(The limited number of surveys on this site is a definite turn off. If you want to try a site that has a wide variety of available surveys, check out Swagbucks, one of the best survey sites on the web)
Only one member per household can sign up for an account on Opinion Place. This both limits the earnings potential of a family as well as keep Opinion Place's membership down.
Though not as slow as some other websites like Global Test Market or Toluna, Opinion Place still takes as long as 3-4 weeks before processing payment and enabling redemption.
This handicap is reduced to an extent due to its $0 minimum redemption requirement.
Some users have mentioned how mid-way through survey taking, their progress suddenly froze out causing all the data (and therefore survey points) to be wiped away.
Similarly, others have criticized Opinion Place's tracking system which lags or sometimes does not record a survey completion at all mentioning how the website lacks adequate tracking capabilities.
As a workaround, a few users have suggested saving backups of completed surveys (in PDF, html, etc.) as precautions.
Take a look at this video to see some proof of Opinion Place's payout process:
Conclusion
The general sentiment expressed across various message boards and forums across the web reveals Opinion Place's positive position in the minds of former and current members.
With no minimum required redemption rates, fast and relatively easy surveys to take up and efficient and trouble-free customer services, it's no denying that Opinion Place is one of the better online panels out there.
Though there have been a number of complaints lodged by users regarding the lack of survey availability, the inadequate tracking and monitoring capabilities and the rather slow payment processing times, the broad majority of users across various websites have reported that Opinion Place is definitely no scam and considerate of members' needs.
As previously mentioned, some large review websites like www.getpaidsurveys.com and www.surveypolice.com have both ranked Opinion Place positively as a good choice when it comes to taking up paid surveys online .
With rankings of 16 out of 24 and 27 out of 213 other survey sites respectively, Opinion Place by the numbers is definitely an above average website to start filling up surveys and earning money risk free and legitimately.
The final judgment on Opinion Place is that is definitely not a bad online panel to invest your time in.
If you are looking for paid survey websites that offer fast, fun and interesting surveys and will not stiff you over payments, then Opinion Place is definitely a good option.
The best suggestion for using Opinion Place is to sign up and take up their weekly surveys in tandem with other good panels so that in the event that you don't qualify for any, you can always move on to the next – because it's always better to put your eggs in more than one basket to begin with.
If you want to take our advice and use several different survey sites, we recommend trying both Swagbucks and MySurvey, the two best survey sites on the web that I've been able to find.